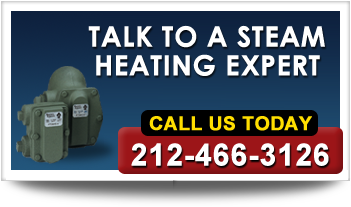 If you are managing large scale buildings in
NYC, steam traps
are an efficient way to equally distribute heat transfers throughout the buildings. GDT Associates Inc stocks and sells and installs high quality steam traps to New York City. We use high quality steam traps manufactured by Barnes and Jones Inc.
Our skilled and experienced technicians use the only highest quality equipment. Not only do we use Barnes and Jones
steam traps in NYC
, but also Skidmore Pump Co brand condensate handling systems. Both are high quality and domestically manufactured to ensure speedy delivery.
We use a variety of different steam traps for different applications, including:
Thermostatic traps
Float and thermostatic traps
Series 8000 bucket traps
Thermodynamic traps
GDT was founded in 1986 and has a senior staff that possesses over 100 years of combined experience in dealing with steam traps. We supply and maintain equipment for all types of sub-atmospheric steam heating systems, and specialize in diagnosing and solving problems relating to variable-vacuum steam distribution equipment.
If you are looking for a company to efficiently install and maintain
NYC steam traps
in your building, do not hesitate to call GDT Associates Inc at 212-466-3126.